Careers
Any forms submitted through the internet are considered Preapplication Questionnaires only.
Applications must be filled out on site, all applications and interviews are by appointment only.
Rotor Turbomachinery Technician
La Porte
Labor General
Account Manager
La Porte, TX
Sales
Service Engineer
La Porte, TX
Service
X
Job Description
Position Summary
The Rotor Technician is responsible for performing manual labor along a production line. Additionally, under the direction of the Rotor Supervisor, the Rotor Technician is responsible for performing incoming inspection, assembly and balancing on steam turbine rotors, pump rotors or any rotating elements and capable of using precision tooling.
Essential Duties and Responsibilities
The essential functions include, but are not limited to the following:
Responsibilities
Loading parts, operate controls, set offsets, debur and inspect quality parts for conformance to requirements
Load parts into the Mill, Polisher, and Mazak; prove programs, operate controls, and make simple edits to programs
Measure and mark dimensions and reference points on material or work pieces as a guide for subsequent machining
Detect equipment malfunctions or out-of-tolerance machining
Adjust machines, within capabilities, control or control media, as required, to ensure the quality of production.
Report all machine malfunctions to the Rotor Shop Supervisor
Operate within standard operation procedures (SOPs) and Job Safety Analysis (JSAs)
Operate overhead cranes to move product to and from work cells, if required
Operate forklifts and lifting devices for movement of parts, if required
Perform minor preventive maintenance (PM) on production line machinery at the direction of the Operator
Conduct dimensional tests, as required
Clean and maintain work area
Measuring and inspect completed parts
Adhere and comply with state, federal, Company, and HSE regulations within the scope of the job requirements
Other duties as assigned
Minimum Qualifications (Knowledge, Skills, and Abilities)
High school diploma or equivalent
Experience working in a machine shop required
3 years of experience operating CNC machines, including lathes and milling machines, in a heavy
Experience using basic measuring devices (i.e., calipers, micrometers, shim gauges), as required.
Attention to detail
Self-starter who thinks of innovative, faster ways to accomplish tasks
Works with minimal supervision
Flexible and able to adapt to our dynamic environment
Able to work well in a team environment
Must possess basic reading and writing skills
Must possess basic math skills, including adding, subtracting, multiplication, division, geometry, and
algebra for the purpose of calculating material fabrication
Must possess manual dexterity required for operating machinery and computers
Knowledge of manufacturing facilities
Knowledge of reading drawings and specifications with an intermediate understanding of geometric
Able to operate a forklift and lifting devices for parts movement
Able to follow written and oral instructions
Able to work flexible shifts with changing work schedules
Physical Demands and Work Environment
The physical demands described here are representative of those that must be met by an employee to successfully perform the essential functions of this position. Reasonable accommodations may be made to enable individuals with disabilities to perform the functions.
Sitting, bending, standing, walking, 8-10 hours per day
Able to lift 50 lbs.
Must comply with any safety or PPE requirements
Exposure to production environment
X
Account Manager Job Description
The Sales Representative –is responsible for representing Revak Keene Turbomachinery sales products in a defined geographic territory with the ultimate goal of sale of repair, parts and upgrades of Steam and Gas Turbines, Centrifugal Compressors, Centrifugal Blowers, Pumps and associated products. This position will target sales prospecting and sales to new customers in the industrial markets. As part of a sales team, the Sales Representative –shares the responsibility with our sales team to act in a manner that ensures the continued stability and growth of all members of the team through a spirit of collaboration as well as a commitment to the same set of business values and a commonly shared mission.
The incumbent in this position is expected to model the following practices on a daily basis: 1) Demonstrate alignment with the company's mission and core business values; 2) Collaborate with key internal/external resources; 3) Participate in ongoing self-development.
Essential Functions:
Identifies and initiates contact with and influences potential buyers in a manner that is consistent with our mission statement and core values in order to meet or exceed territorial and corporate business goals
Sources and grows sales with new business opportunities and develops new customers and current customers.
Obtains, diagnoses, and responds to specific customer needs in order to enhance the quality of customer service and satisfaction and promote a mutually beneficial relationship
Promotes products and services to existing customer base while expanding on that base in order to obtain territorial as well as organizational business goals
Creates and submits accurate and timely sales-related reports and documentation in order to support business goals
Meets all sales-related key metrics within the review period
Contributes to the development, monitoring, and control of the sales forecast and expenses within the assigned territory in order to meet or exceed the business goals
Completes special projects as requested by the General Manager in order to meet the changing needs of the company
Travels to and from customer locations
Works safely at all times and adheres to all applicable safety policies; complies with all company policies, procedures, and standards
Performs other duties as assigned
Work Hours:
40+ hours a week, including late evenings, weekends, and holidays
Knowledge, Skills, and Abilities:
Knowledge of Revak Keene Turbomachinery products and product support services and programs
Demonstrated knowledge of selling techniques (prospecting, overcoming objections, closing sales)
Excellent selling, negotiating, and closing skills with the ability to build long term business relationships
Proficient with MS Office Word, Excel, Outlook, etc.
Understands the implications of new information for both current and future problem-solving and decision-making
Uses logic and reasoning to identify the strengths and weaknesses of alternative solutions, conclusions, or approaches to problems
Exceptional attention to detail and thorough completion of work tasks
Excellent communication and interpersonal skills to establish working relationships with multiple departments and various levels of the organization
First-class organizational, multi-tasking, and time management skills, deadline-oriented
Understands written sentences and paragraphs in work-related documents, and communicates effectively in writing as appropriate for the needs of the audience
Ability to perform mathematical computations such as percentages, fractions, addition, subtraction, multiplication, and division quickly and accurately
Ability to work independently and within a team in a fast-paced, high volume environment with emphasis on accuracy and timeliness
Ability to read, analyze, and interpret professional journals, technical procedures, or governmental regulations
The ability to listen to and understand information and ideas presented through spoken words and sentences
Knowledge of safe work policies, procedures, and practices
Knowledge of sales techniques, financial, credit, and accounting principles
Ability to work with individuals and groups
Education and Experience:
Minimum three years of work-related skill, knowledge, or experience are required. Six years or more preferred
Bachelor's Degree in Business or related field preferred
A high school diploma or equivalent with some college coursework or an equivalent combination of education and experience preferred
Valid driver's license
Supervisory Responsibilities:
Travel:
Extensive driving required; overnight travel required
Physical Requirements:
To perform this job successfully, an individual must be able to perform each job duty and responsibility satisfactorily. Reasonable accommodations may be made to enable individuals with disabilities to perform job duties and responsibilities
This position involves extended periods in a stationary position; additionally, occasional movement inside the office to access office machinery, file cabinets, etc.
Constant movement and use of limbs; this position requires good manual dexterity, coordination, and stamina
This role frequently communicates with others, must be able to exchange accurate information in these situations
Routinely reacts to visual, auditory, and other signals, including alarms and instructions, and is required to visually inspect work
Work Environment:
This job is generally performed in a home office; operating computer, manual dexterity, talking, hearing, and repetitive motion
Disclaimer: Please note that the above statements are intended to describe the general nature and level of work being performed by employees assigned to this classification. They are not to be interpreted as an exhaustive list of all responsibilities, duties, and skills required of the incumbents so classified. All incumbents may be required to perform duties outside of their normal responsibilities, as needed.
X
As a Design Engineer, you will be responsible for a wide variety of opportunities in the in our service department. From researching and quoting future potential service opportunities, to being the design lead on multiple service projects where you will be responsible for developing and carrying out repair solutions. Responsible for shifting priorities to support other urgent unplanned work or help support our team with repair challenges. You will have the opportunity to be part of an experienced service repair team, in which you will learn, collaborate, develop, and execute a variety of repair solutions. You will also have direct collaboration with internal and external customers.
Responsibilities
Working closely with a highly experienced, motivated team of specialists to apply expertise and broaden experience in all aspects of turbomachinery,
Ability to influence existing product designs and new design standard methodologies by providing valuable aftermarket feedback
Sensitivity to factors that may have commercial and/or manufacturing consequences
Support the services business with creating inspection plans, reviewing findings, developing repair plans, supporting shop repairs, and writing reports for existing equipment,
Lead and/or support reverse engineering projects by performing calculations, ensuring drawings are issued to required dates, and completing tasks within allocated budgets
Provide mark-ups and information to direct drafting personnel so that they may correctly revise existing engineering drawings and/or create new engineering drawings
Provide technical instructions to the field in support of installation or troubleshooting activities
Support field service engineers and customers in forced outage recovery programs and root cause investigations.
Communicate and convey ideas effectively to peers, suppliers, and customers, and deliver technical presentations to customers and management
Experience
Licensed Professional Engineer preferred
8+ years of turbomachinery engineering experience
Design experience with strength of materials, structural analysis and machine design. Ability to design using finite element analysis tools
Knowledge and experience in design and, or repair of products
Minor travel required
Bachelors Degree in Mechanical Engineering or equivalent from accredited university/college
Ability to communicate effectively both verbally, in writing, and in technical presentations to customers or management
12204 Fairmont Parkway, La Porte, Tx 77571
sales@revakkeene.com
(281) 427 8800 | (888) 342-1669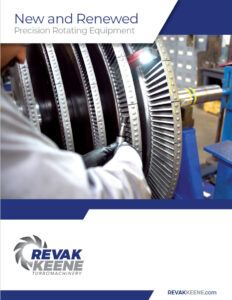 Brochure Industrial
           Storage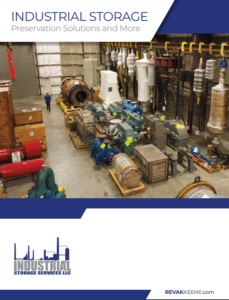 Revak Keene Turbomachinery Copyright © 2022.